Spring is here and I couldn't be happier. It's my favorite time of the year. Around this time, I start craving lighter foods and meals that use really fresh ingredients. Below is my recipe for a quick creamy avocado spring pasta. It can be eaten cold or warmed, (I prefer it warmed). It tastes just like a bite of spring.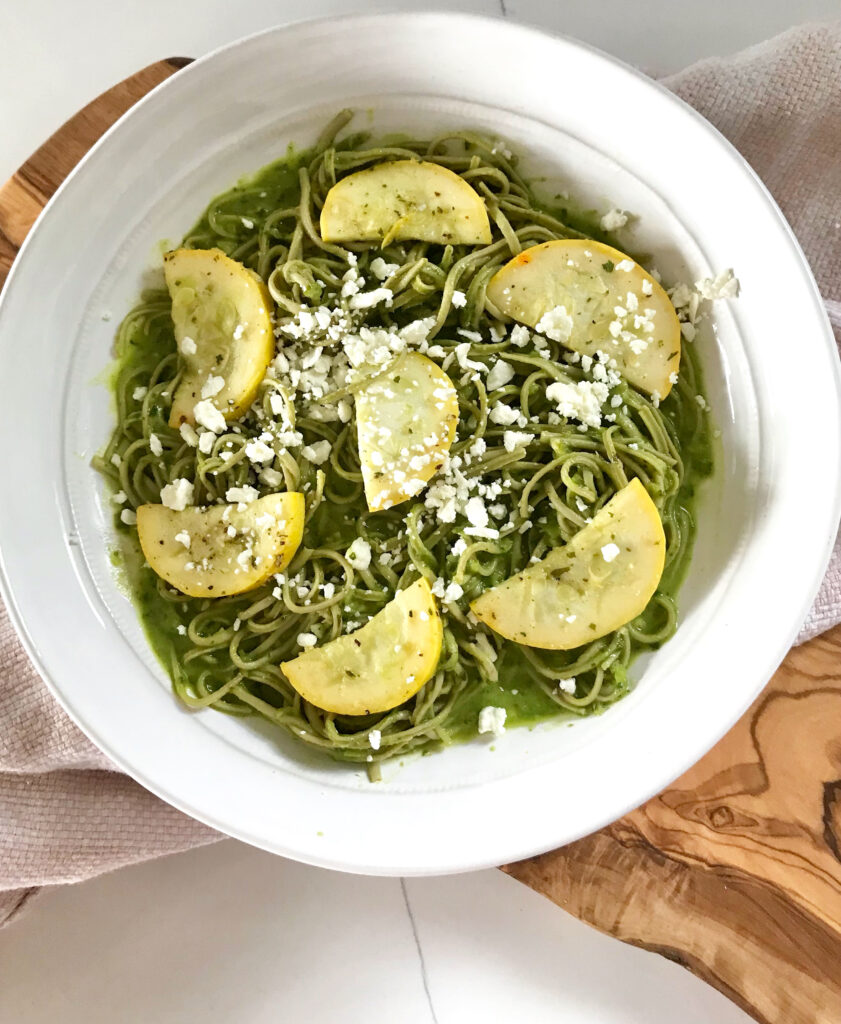 Creamy Avocado Sauce Flavor Origins
I'm a big fan of trying different pasta sauces. You can never go wrong with the traditional marinara, but sometimes it's good to be adventurous and experiment with other flavors. I am Mexican and many of our meals are inspired by traditional Mexican food and flavors. The sauce that I made for this pasta, is actually only two ingredients away from being a traditional "salsa verde," or green salsa. Huh? I know, but this just goes to show the versatility of ingredients. It always amazes me how swapping one ingredient for another will leave with a completely new recipe and flavor profile.
Salsa vs. Pasta Sauce
Let me explain what creates this difference between ending up with salsa versus pasta sauce. Traditionally "salsa verde" or green salsa combines the ingredients of chile peppers- Serrano Pepper or Jalapeño Pepper- tomatillos, salt, cilantro and water/ vegetable broth. A very basic salsa base. If you want a more mild flavor you can add some lime or more tomatillos. For our creamy pasta sauce we are leaving the tomatillos out and replacing them with avocados. The thickness and fat content of the avocado creates the creamy consistency. Since the purpose of this sauce is to be enjoyed as a pasta sauce, we don't want it to be overwhelmingly spicy. I swapped out the Serrano peppers for the more mild bell pepper, or chile moron. To give it the light flavor of "Primavera," I added lime juice (which will also help the avocado from turning green), and I used olive oil to bring everything together.
Prepping the Peppers
A very common way of making salsa is by dry roasting the peppers, or in Spanish torear los chiles. You place the peppers and garlic in a pan and let the skin toast for about 10 minutes, rotating to get an even toast all over. This process bring out a crisp flavor on the skin that makes the peppers taste as if the just came off the grill. I used that same process for this avocado pasta sauce.
Spring Pasta
Once the peppers and garlic have been toasted, the rest is very simple. You can use a food processor or blender to blend everything together until you achieve a creamy consistency. Poor the sauce back over pasta and let it simmer for a few minutes. I opted for an edamame spaghetti pasta for this dish but any kind will work. I really like the variety of pastas Aldi offers. While it's heating up, slice some yellow squash ( I like to cut it in half after for a better portion size). Lastly, lightly sauté the squash, add your spices and then you're ready to assemble.
Creamy Avocado Pasta
I love this dish for spring because it light, uses all fresh ingredients and it's quick to put together. Giving me more time to get out and enjoy the sunshine, instead of being stuck in the kitchen. To plate, simply start with the pasta, add the yellow squash on top and then top it off with some feta cheese. This last step is optional, but in my opinion, the tangy flavor of the feta cheese takes it to another level. Enjoy this taste of spring!
Print
Creamy Avocado Spring Pasta
The perfect spring pasta. Made with a creamy avocado sauce that you wouldn't believe is dairy free. 
Author:
Prep Time:

20 minutes

Cook Time:

10 minutes

Total Time:

20 minutes

Yield:

2 servings

Category:

Savory

Method:

Food Processor

Cuisine:

Pasta

Diet:

Gluten Free
Ingredients
-1/2 pound edamame pasta (any kind will work)
-1 summer squash
-1 small avocado
-2 tbsp of olive oil (divided)
-1 lime
-handful of fresh cilantro
-handful fresh spinach
-1 small bell pepper
-1/2 to 1 jalapeño pepper (depends on spice level you want to achieve)
-2 green onion stems (chopped)
-2 garlic cloves
-1/2 cup vegetable broth
-1 tsp garlic powder
-1 tsp lemon pepper (optional)
-Pinch of salt
Instructions
1. Prepare pasta according to package instructions
2. In a small pan, place the peppers and garlic to lightly dry toast the skin. (Let cool before blending)
3. In a food processor or blender, blend together the 1 tbsp of olive oil, avocado, cilantro, spinach, green onions, peppers, garlic and vegetable broth. Salt to taste
4. Add the sauce over the pasta and allow to simmer.
5. Slice the yellow squash into medallions and then into half circles. Add into a pan and season with the remaining olive oil, garlic powder, lemon pepper and salt. Sauté for about 7 minutes.
6. To plate start with the pasta and then add the yellow squash slices on top. (At this point this is a completely vegan and dairy free meal).Optional-you can top with feta cheese for a tangy finish. Enjoy!
Notes
*The skin of the peppers and garlic needs to be evenly dry toasted in a pan without any oil. 
Keywords: Gluten free, vegan, dairy free, savory, lunch